Bountiful BOM – Month 8
6.5.2023
NOTE: these blog posts for the Bountiful quilt top are part of a limited series for our Block of the Month subscription program. Sign-ups for the Bountiful BOM are no longer available. You can learn more about our upcoming Block of the Month subscriptions here.
Hi friends! We are SOOO close to the finish line with this quilt, I can almost taste it! This month is a bit of a breather, so if you are a little behind, it's a great time to get caught up. And also, last month was a LOT of sewing.
So here's what up for month 8: All we need to do is make eight cute little 4-patch star blocks (pretty similar to month 3), and add a little strip to the top and bottom. That's it!
Some of you may be wondering where our last acorn blocks are. I promise they didn't get forgotten! We'll be making those next month before we attach our borders and finish the top. But enough about month 9. Let's get back to month 8.
Like I said, these are almost the same as the ones we made back in month 3, with the only difference being that the background for the blocks is cream, and not the tan Antler fabric.
We make the same 4-patch blocks…
Then we'll make 32 flying geese units. If you don't want to use the stitch and flip method that is in the pattern and shown below, but would rather make the no-waste method, you'll want to cut Eight 4-1/4 squares from the Cream fabric (in place of E), and Thirty-Two 2-3/8" squares from the Espresso fabric (in place of C), which will all need to be marked diagonally. I have used this method in previous blog posts on the CT website, so if you want a tutorial, I've shown how to use the no-waste flying geese method back in the Bountiful Month 4 blog post.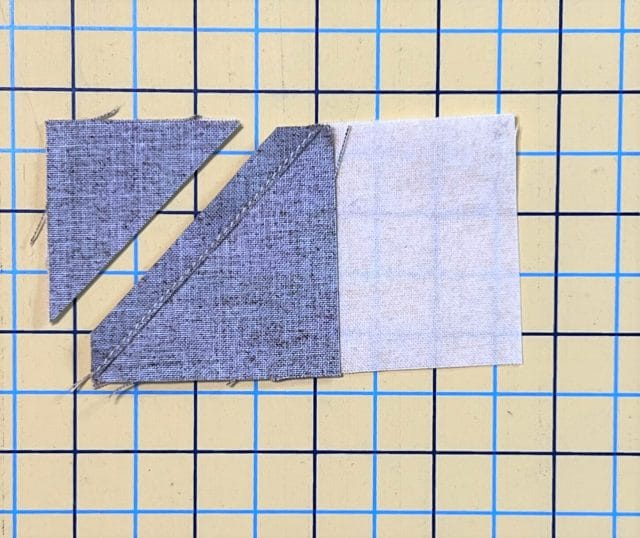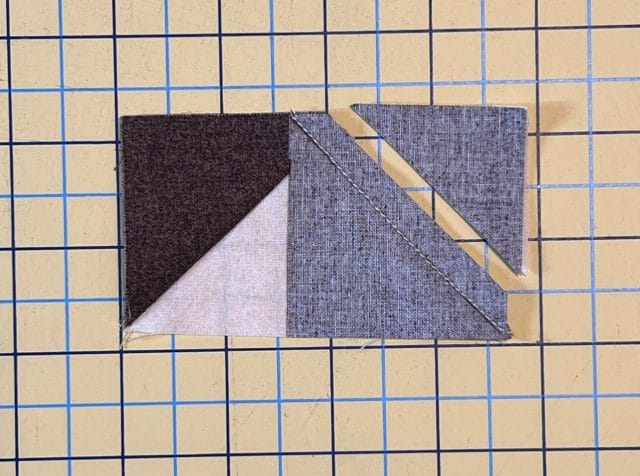 Once those are done and trimmed to be 2" x 3-1/2", we can assemble our star blocks. I made sure I had all my 4-patch units oriented the same way, but it's one of those things that isn't super important. It's all about what makes you happy, and if you think you'll be bothered by it once your quilt is finished.
After the blocks are sewn, like I said before, we just have to add a little strip of Cream fabric to the top and bottom of each one to finish.
See? I told you this month was an easy one! I know it's hard to be patient when we are practically done with this quilt, but we'll have to wait a few more weeks to get this all wrapped up.
Until next time, Happy Quilting!
-Kristin