Open Skies BOM – Month 8
10.26.2022
Well friends, we've almost made it to the finish line! This month we have our last two blocks and the remaining few sashing strips. Then next month we can sew everything together. I'm so excited!
Since we only have two blocks this month, it's also the perfect time to get caught up. So if you've fallen behind, don't worry. You still have time to get up to speed before next month, especially since these final blocks are simple and quick.
Block #8
This block is just a simple 9-patch with a border. It doesn't get much easier than that!
You'll begin by sewing the D and E squares together like it says in the pattern. Even with a simple 9-patch, I still check my measurements when I'm done, just to make sure I end up with the proper size, which in this case is 6-1/2" square.
Next, sew on the F strips to the sides, followed by the G strips on the top and bottom, and make sure this measures 8-1/2" square.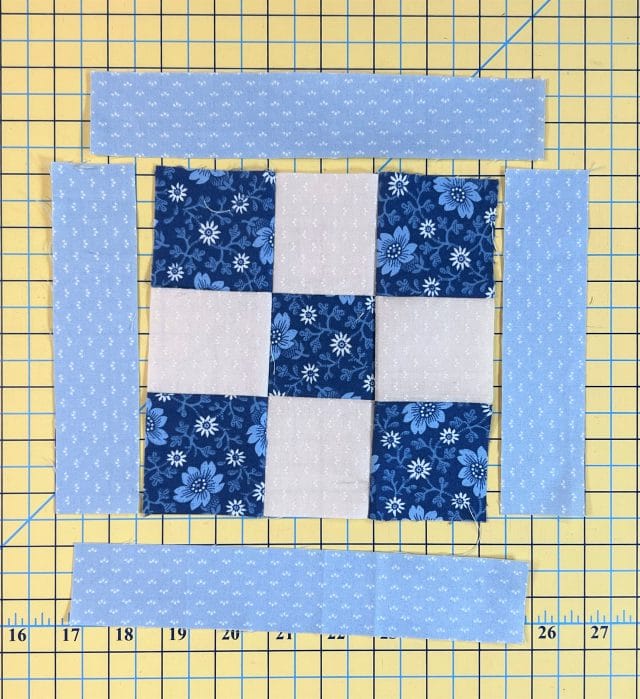 Now it's border time to finish the block. You know what to do!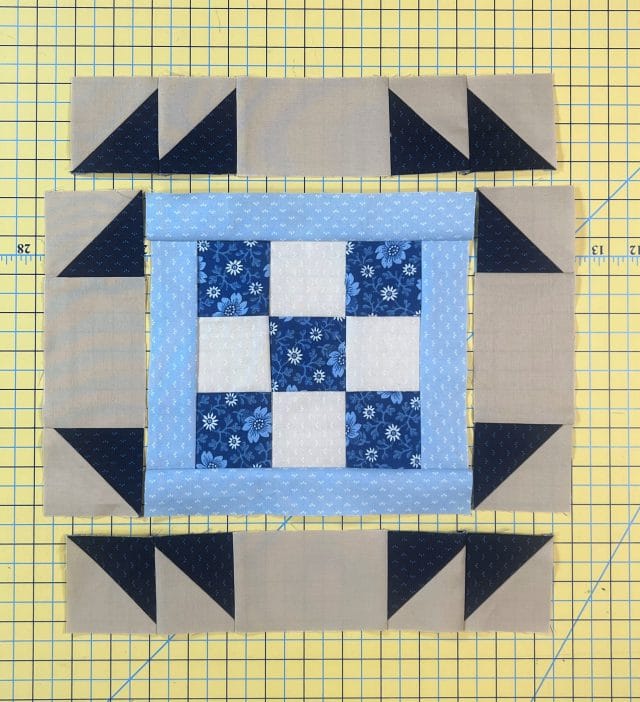 Block #19
Our last block for this quilt is an easier way to make a square in a square. We'll start by making four stitch and flip flying geese units measuring 2-1/2" x 4-1/2" like so:
Now all we have to do is take two of them and sew them to the center D square (which I noticed I forgot to label in the pattern on step 2. YIKES! My apologies!)
Then you'll sew an F square to each end of the remaining two flying geese units, and then sew those to the top and bottom of the center unit. I've laid out all the components of the block so that I make sure everything is going the proper direction.
Once that's done, then you will sew on the very last set of border units to complete the block. HOORAY!
Don't forget to finish up all your sashing strips.
I really hope you've enjoyed making all these blocks over the past 8 months. I can't wait until next month when we finally get to put this quilt together!
Happy Quilting my friends!
Kristin