Matt's First Sewing Project
8.20.2012
Hi there, I'm Matt. For those of you who don't know me, I am the CEO of Crafts Americana Group which is the parent company of Connecting Threads. I have been meaning to try my hand at sewing for a long time. Really, I have. I am literally surrounded by quilters, crafters, fabric and thread all day at work. At night, I usually come home to a kitchen table held hostage by my wife's sewing projects. With 24-hour technical support and a warehouse full of amazing fabric, thread, tools and notions at my disposal, I have no excuses. Still, there was something intimidating about a craft that requires the precise use of machinery and sharp needles.
This year, with a lot of hand-holding, Mari (one of Connecting Threads' wonderful quilt designers) finally convinced me to begin sewing by taking part in the Gifty Galore project. It was the perfect opportunity. Rather than biting off a big project with room for compound error, the goal was to find a project that I could complete in less than 20 minutes.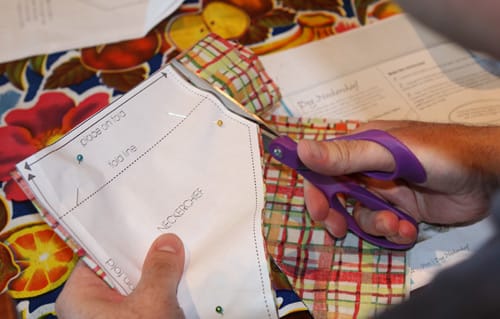 The project I selected was a Dog Neckerchief from the book Stitch at Home by Mandy Shaw.
Why this project? A) It only required a single piece of fabric, B) I have a dog and she loves to sport neckerchiefs, and C) it only had four simple steps. The simplicity of this project allowed me to focus on the hardest things for a beginner: winding the bobbin, threading and general operation of the sewing machine. Once I had this complete, the project was a breeze.
I chose the Wispy Plaid fabric from our new Maple Skies collection.

A perfect selection for a Lab who loves chasing squirrels, with fall just around the corner. The pattern was very self-explanatory, even for a beginner. I enlarged the pattern by 250% to accommodate our mid-sized Labrador. I probably could have gone a bit larger to 300% or so, as the casing for the collar was a tight fit around the collar buckles, but all-in-all this project was fun. Once I had the sewing machine set-up, the project took me less than 15 minutes. The fun went by too quickly, actually. As you can see, I added some green pom-pom trim to the collar. Not so much because my dog loves "flair," but mainly because I was having so much fun operating the sewing machine that I wanted to keep going.
With my first project complete, and my sense of fear and wonder regarding the sewing machine now diminished, I am excited to try my hand at a few more projects before Christmastime!