What Chamisa's Been Working On
4.25.2019
As a life-long crafter, I have a good bit of experience with sewing; but I hadn't tried any quilting until recently. As usual, rather than dipping my toe in and working on one project from start to finish, I dove in head first and ended up with two small quilts and a pillow! I began last fall, working from the Out of the Box Pattern by Christa Watson of Christa Quilts, and reducing the size of the blocks by 50%. I don't have a dedicated space for my sewing machine (see my makeshift setup in the photos below) so for this first quilt I decided to hand-piece the blocks.
Trimming on the floor seemed like a good idea…

Until someone wanted to go outside and play.
I really enjoyed the slow and steady process of hand-piecing—emphasis on slow—but when I found a stack of precut Tea Service squares in the free box here at Connecting Threads, I decided to zip them together on the machine. Now I had a second quilt top done, and it was SO much faster!
At this point, I also took some leftover scraps from the Out of the Box quilt and stitched together a scrappy block for a throw pillow. I've been wanting to try some sashiko stitching, and this seemed like a perfect project to try it out on. I did a lot of poking around on Pinterest for design ideas, and really liked the stuff I was seeing that had a more wobbly and handmade look, rather than perfect, even stitches.
When I started quilting, I ran into some issues with the fabric pulling unevenly. After washing the quilts the pulling was less obvious, but I definitely need to buy a walking foot!
I had so much fun with these three projects. Each one taught me something a little different. I now have a goal to create a dedicated sewing space in my home! Also on my list: a better quality sewing machine 🙂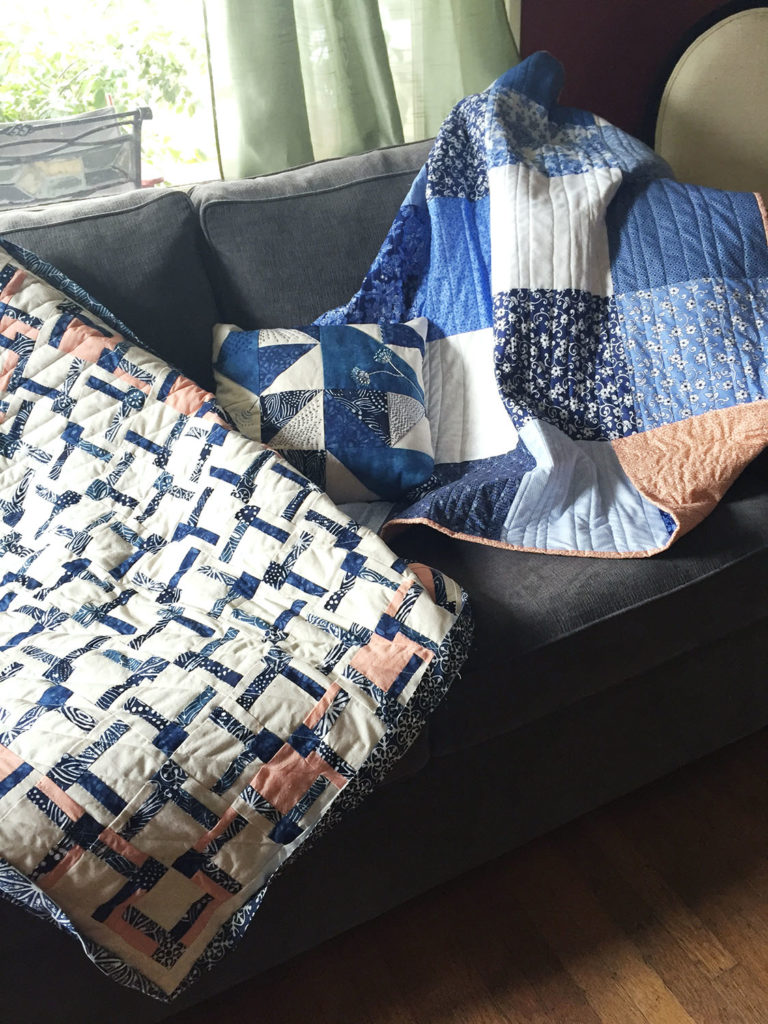 Fabrics and materials shown in this post:
Marika Indigo Batiks by Connecting Threads.
"Lace" in cream from the collection English Tea by Connecting Threads (sold out of cream but there are still several other colors available!)
"Petticoat" in Denim from the collection Clementine's Bonnet by Connecting Threads.
"Liberty" in Mauve from the collection Clementine's Bonnet by Connecting Threads.
Tea Service by Connecting Threads.
Sashiko Thread: Presencia Finca Perle Cotton.
Hobb's Poly-Down Pillow Insert.
Hobbs Tuscany Cotton Wool Batting (used in the larger quilt).
Hobbs Poly-Down Batting (used in the smaller quilt).