Chaco Liners
3.7.2017
---
Featured Tool: Chaco Liners by Clover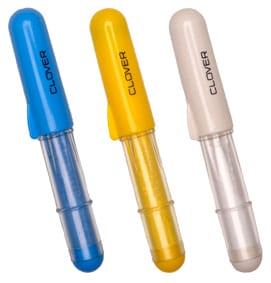 What is this tool typically used for?
This tool helps trace lines perfectly to mark fabric prior to sewing or quilting.

What were your initial thoughts?
Well, I've known and used these for years now, but at first glance I thought they were just short and fat markers.

How did you use it?
First, I aligned my ruler onto my finished quilt top. I then ran the Chaco Liner down the side of the ruler to mark a straight line in preparation for quilting. You can also mark organic lines too (without a ruler).
How did using it go?
Wonderful! I love using these markers because they are chalk-based and it easily rubs off.
How long did it take you to learn how to use it?
Instantly.
What did you like best?
I love that it comes in three colors: yellow, blue, and white. No matter what color of fabric I'm working with, I can find a liner that shows up well. The chalk comes out easily and plus they are easy to hold.
What did you like the least?
There's nothing negative to note about these liners!

Could you see another potential use for Chaco Liners?
You could use it for apparel marking and general sewing.
Why do you NEED it?
If you want a simple, easy-marking tool in a variety of colors, these Chaco Liner Pens are awesome. They are our go-to marking tool by our staff sewists.

Who would appreciate Chaco Liners most?
These are perfect for:
Beginner, Intermediate and Expert quilters

Anyone looking to acquire the basics