Folded Star Tutorial
9.8.2023
Folded fabric stars are a Scandinavian holiday delight made from just 4 pieces of scrap fabric. They're incredibly easy to weave together and require no sewing, making them the perfect weekend project! Here's how to make these marvelous folded stars:
---
Tools Needed:
4 pieces of fabric measuring 4″ x 16″
Ruler
Rotary cutter
Cutting mat
Spray starch
Wonder clips
Iron and pressing mat or board
Glue for star tips (optional)
---
Directions:
Step 1:
Prepare your fabric. Cut each piece into a rectangle measuring 4" x 16". These strips will make a 3 1/2″ star. Spray with starch and press.
Step 2:
Fold and press each rectangle into double fold bias tape. Start by folding each strip in half longwise (meaning your fabric should now measure 2″ x 16″). Press the fold, then open it. Next, take each long side and fold it into the center line you just pressed. Press these 2 new folds. Fold the fabric in half longwise again, with the raw edges on the inside, and press. Repeat the process on each piece of fabric. Follow the diagram below for visual steps.
Step 3:
Fold each piece of bias tape in half.
Step 4:
Start to weave your 4 strips together. Follow the diagram below and pull tight once your fabrics are all woven together.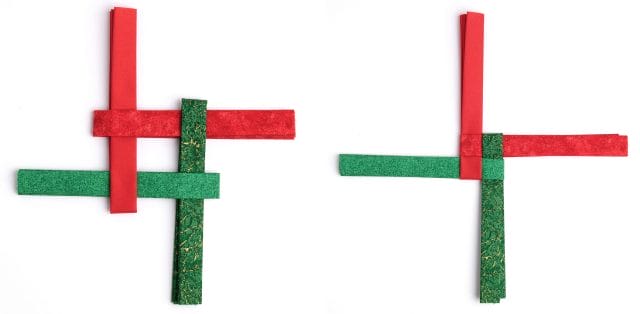 Step 5:
Flip the entire piece over.
Step 6:
Going counter clockwise from the top, start folding each of the long ends from each side onto one another. Tuck the final piece into part of the top strip, as shown. Pull taught.
Step 7:
Begin making your star points, beginning with any strip. Fold a strip to the side, flip the star over, and pull that same strip down to create a point.
Step 8:
Fold point in half, tuck point into the star. Pull snug. Trim the excess.
Tip: Use a point turning tool like That Purple Thang to tuck the fabric strip into the star, then pull!
Step 9:
Continue steps 7-8 for the remaining strips, creating 8 points. To keep each point in place, we recommend using wonder clips. You can also place a dab of glue inside each point to hold shut.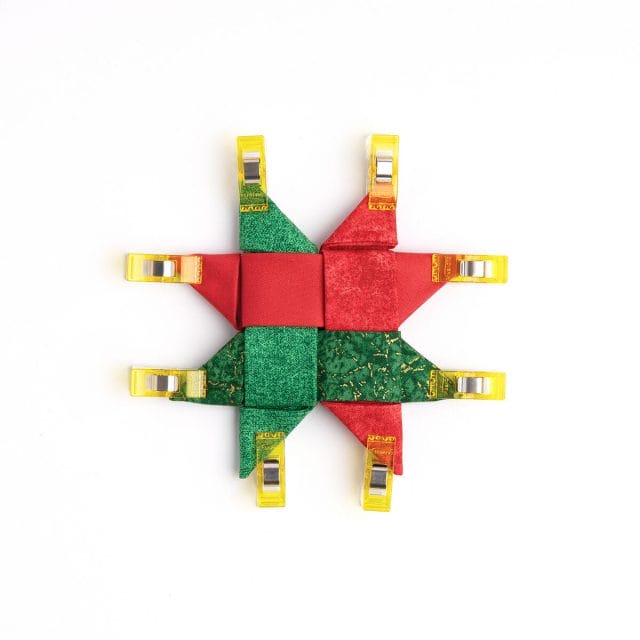 Congratulations, your folded fabric star is done! Don't forget to tag us on social media so we can see all of your fabric creations!
Happy sewing!