English Paper Piecing Mania!
7.24.2018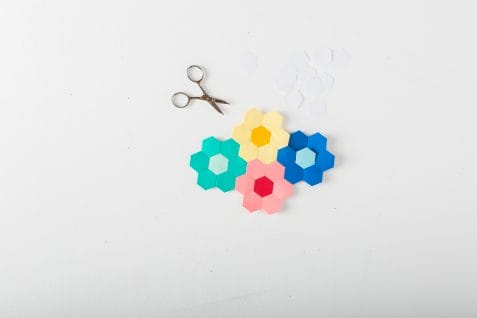 If you were wondering if it's hard to get work done here at Connecting Threads because we're always talking about our own personal sewing projects, the answer is YES! And from time to time, a bunch of us catch the same bug – it's the best kind of infectious. Right now, that bug is English paper piecing. Hannah, our Multimedia Director is patient zero, and not long after, Susie, our Marketing Director, and I caught full-blown cases of HEXIE FEVER.
I'm working with Color Wheel Solids fabrics for my project, making bright, cheery, traditional hexagon flowers. I have absolutely no idea what this project will end up being, but I am currently loving nothing more than coming home from work, laying on the couch, and watching Buffy reruns as I make my hexie flower garden grow.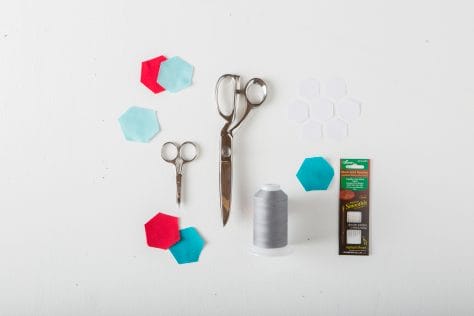 Here are a few of the tools I'm finding most useful for my project.
These templates from Paper Pieces. I'm using the 3/4″ hexies, and truly, they make getting my shapes ready to sew together such a breeze.
EssentialPRO thread in Grey . It's poly so it glides smoothly through fabric, and it's 70 weight so it melts right into my seams. I love the grey because it blends well with any and all colors, light or dark.
Clover Black Gold Needles. They really are the best. So sharp, so glide-y.
Sew Great Supplies 4″ Micro-tip Scissors. Ultimately portable at 4″, these little fellas have an extra sharp tip that's great for trimming threads right down to the knot, and for cutting out mistakes. Not that I ever make mistakes…
I also cut all seven layers of fabric to shape at once using our 9″ Classic Fabric Scissors. No rotary cutter for me, this is a project I can complete entirely on my couch.
Have you caught English paper piecing fever too? What are some of your favorite projects and tools?