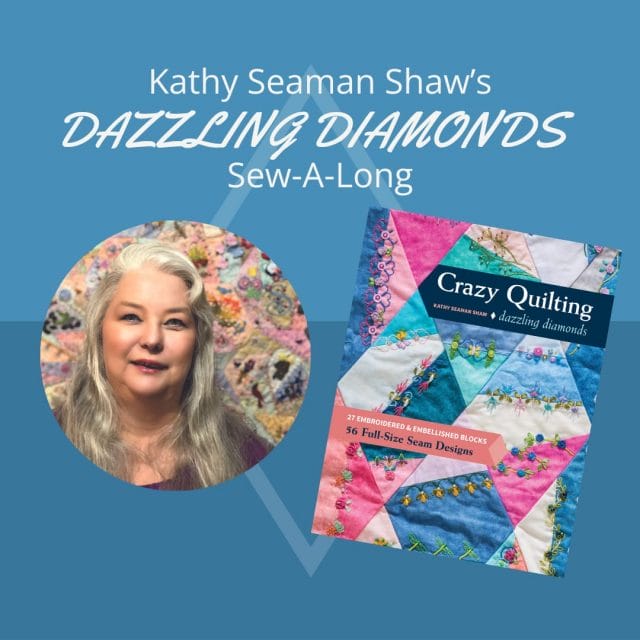 Connecting Threads is thrilled to announce a brand new Sew-A-Long with one of partners, C&T Publishing! Kathy Seaman Shaw, the author of Crazy Quilting Dazzling Diamonds, will be running a Sew-A-Long on the C&T blog. Featuring some of our favorite Connecting Threads' fabrics, Shaw has an exciting few weeks planned for you all! Here's a special introduction from Shaw herself:
Have you ever wanted to create a crazy quilt, but were worried over how to start? Well, that's exactly why I wrote Crazy Quilting Dazzling Diamonds. The intent was to give readers a full instruction book, using modern techniques, to enable them to create a crazy quilt from start to finish. I purposely used cotton fabrics, because quilters and seamstress/tailors were already familiar with that type of fabric. I also made the decision to keep the project small so it was manageable in size so to not become too over-whelming. This is what I call a "planned project" because the quilt is totally designed for you. The layout, the individual embellishing design, and the specific embroidery stitches have all been provided to ensure a balanced final project. Success is practically guaranteed if you just follow the path laid out before you. The Sew-A-Long will also give you a venue to ask questions (just post a comment on Kathy's blog post).
Silks, satins, velvets make gorgeous quilts. But, they are not easy fabrics to work with, especially when you are at the basic stage of creating a crazy quilt. Plus, these fancy fabrics can be very expensive to source. We don't want to waste our precious fancy fabrics as we learn the principles needed to create this multi-faceted quilt. Rather, let's make sure to guarantee our success by using good quality cotton.
These blocks will be packed full of beautiful embroidery work, silk ribbon flowers, and beads/baubles. This gives the reader the full spectrum of techniques they will need to learn. The end result is a beautiful wall hanging. PLUS you will have gained the confidence to try a larger quilt…which could also incorporate those lush velvets, satins, silks and brocades we all dream about when thinking of traditional crazy quilts.
Cotton does not have to be boring! So, don't be concerned that we are not using velvets or silks. This is after all, a "learning" endeavor. Plus, there are some gorgeous batiks and cotton tone-on-tone blenders on the market today. We will be using a wonderful set of rich autumn colors in the sample quilt for this Sew-A-Long. But, you can select the palette of your own desire…maybe a spring color set (like the book cover shows); or go with a lovely monochromatic grouping even. If you would like to use the same fabrics as I'll be using…then hop on over to Connecting Threads(details below).
How the Sew-A-Long Works
The Crazy Quilting Dazzling Diamonds Sew-A-Long will be released in 3 main parts and will be available on the C&T Blog following the schedule below. With each part, you will receive instructions to follow along as Kathy recreates the Dazzling Diamonds Quilt from her book. She will show you her progress and give you helpful tips and tricks in each part. There will be additional blog posts on Kathy's website (www.shawkl.com) to provide individual close-up photos and give you extra information as the Sew-A-Long progresses. While the book will be the path for this quilt, she will also share different piecing options and design principles you would need when venturing into a quilt that is not already "planned out" for you.
Schedule
Tuesday, October 10th: Dazzling Diamonds Sew-A-Long announcement (You are here!)
Friday, October 20th: Part 1 – Organization, Design Principles, Piecing the Blocks
Friday, October 27th: Part 2 – Embroidery Design Transfer, Base Seams
Friday, November 3rd: Part 3 – Silk Ribbon Flowers, Beads & Baubles, Finishing
What you'll need In this Sew-A-Long
Kathy will be using the following fabrics:
To get you prepared for the Dazzling Diamonds Sew-A-Long, here is a list of materials and project notes. In addition to standard sewing and quilt-making supplies, you'll need:
A physical or ebook copy of Crazy Quilting Dazzling Diamonds.
SUPPLIES
Fabrics
Variety of small prints, solids, and non-directional blenders in light/medium values: 1/4 yard or fat eighth each for blocks
Border fabric: 3/4 yard of medium-weight cotton upholstery fabric
Foundation fabric: 2 yards of neutral-color cotton broadcloth or good-quality muslin
Backing and hanging sleeve: 1 1/8 yards
Other Materials
Water-soluble printable stitch stabilizer sheets or Embroidery Shape Templates (See Online Resources, page 94.)
Template plastic
Perle cotton: Size 8 in a variety of colors or 3-ply six strand embroidery fibers
Silk ribbon: Sizes 2 mm, 4 mm, 7 mm, and 13 mm in assorted flower and leaf colors (sizes can be adjusted but 4mm & 7mm is critical)
Seed beads: Size 11 (standard) (can also use size 15/20)
Round beads: Sizes 2 mm, 3 mm, and 4 mm in glass, crystal, or plastic as you like
Crystal montées: Sizes 3 mm and 4 mm or small
Sequins: Sizes 4 mm, 6 mm, 8 mm, and 10 mm Floral beads caps: Sizes 6 mm–10 mm Flat 2-hole and 4-hole buttons: 1/4 ̋–1/2 ̋ in diameter
Floral beads caps: Sizes 6 mm–10 mm
Flat 2-hole and 4-hole buttons: 1/4 ̋–1/2 ̋ in diameter
Note: The selection of fibers, beads & baubles are personal and will depend on your own stash and the color you choose. All of the above types can be substituted with any other "bauble" you like, just keep to the same general size to ensure the final result remains balanced. Half the fun of embellishing is getting to use that "favorite" bead, sequin, button or jewelry finding!
Connect with us!
Follow C&T's Facebook and Instagram pages for weekly reminders! You are invited to share your progress by tagging @ctpublishing and using #DazzlingDiamondsSewALong. If you have any questions, reach out to Kathy via her blog here.
Return to the C&T Blog for Part 1, which will be posted on Friday, October 20th.
…
About Kathy Seaman Shaw
Kathy Seaman Shaw has always shared her knowledge of the needle arts by teaching basic skills in sewing, crocheting, cross-stitch, ribbon embroidery, beading, jewelry making, and traditional quilting at local guilds. Crazy quilting allows the use of skills from other hobbies as possible embellishment ideas, keeping creativity flourishing and expanding Kathy's knowledge in various techniques. She just can't imagine a more enjoyable creative experience and is happy to share that love of needle arts with anyone who will listen.
She offers a full range of free downloadable classes in crazy quilting embellishing techniques on her blog. These were offered as free online classes; but now can be finished as a self-pace volume of instruction in Basic, Intermediate & Advanced techniques.
Kathy is happy to answer questions via her blog at shawk. Just leave a comment on any of the Dazzling Diamonds Sew-A-Long posts during this event.