For Day 3 of our 7 Types of Quilters Gift Guide, the Art Quilter is being celebrated! If someone in your life loves reading Quilting Arts or Fiber Art Now, loves following artists like Bisa Butler or Timna Tarr, or loves playing with fabric like it's paint – they'll love our mini gift guide made just for them! We want to foster creativity in quilters, so here are our top picks for the fiber artist in your life:
Earthues Botanical Dye Kit ($45.00)
Our first gift idea is a special collaboration with our sister company, Knit Picks! They sell one of our favorite dye kits by Earthues, made out of natural ingredients for natural fibers. An all-in-one pack that includes 4 dye options, and all the mordants and mix-ins you'll need, this is an incredibly fun gift that any artist will love. Not sure what the giftee would use it with? Well, we've got a good idea for a sister gift to go with this gorgeous dye kit…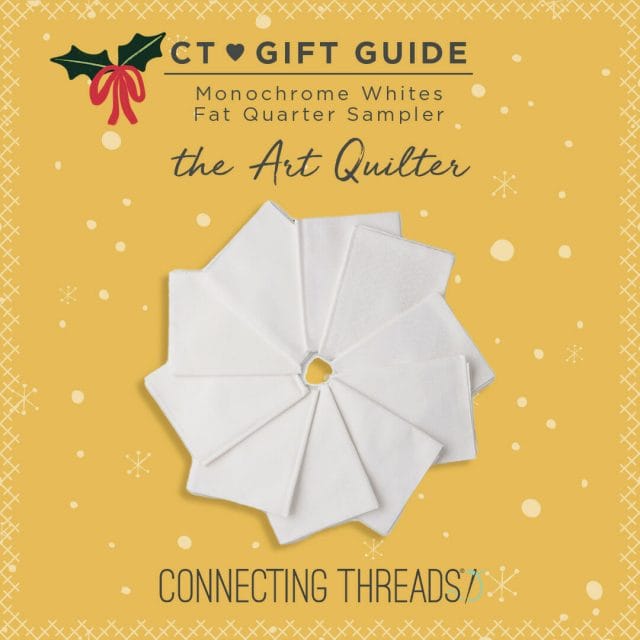 2. Monochrome Whites Fat Quarter Sampler ($23.99)
One of our best stash-building samplers, this set of Monochrome Whites is a fantastic addition to any creative crafter's shelf! Each fabric has a small print that won't accept the dye, so adventurous quilters will love the unpredictability of playing with pattern and color. Plus, any leftover white scraps work wonderfully as a base for thread painting and fabric collage building – it's a win-win-win!
4. Stitched Photo Mosaic Quilting by Timna Tarr ($24.99)
We brought up Timna Tarr's artistry for a reason! This book is a gorgeous look into Tarr's design process, with intro tips for beginners and advanced design techniques for quilting pros. If you have a sewer on your list who wants to branch out artistically, this book is a wonderful guide that will utterly delight!
5. Windy Scroll Hanger in Charcoal – 28″ ($33.32)
Do you have that one quilting friend who has tons of stunning projects that need to see the light of day? Maybe they're nervous to show them off or aren't sure how best to display them? This quilt hanger is a handsome addition to any artist's tool box, with a lovely scroll design on top to compliment a beautiful quilt below. Help your loved one get the confidence to show off their artistry by gifting them a way to do just that!
Quilting is an art, and we won't hear it any other way! Celebrate the fiber artists in your life with this fun array of gifts that will thrill any creative soul. Happy gifting!