Welcome to the new season of the Connecting Threads Podcast with new host Zoey!
Zoey is a fabric fanatic and is constantly seeking new skills, supplies, and epic adventures. As a fiber artist, bag maker, and quilter, she spends her evenings and weekends sewing as much as she can muster while her Corgi sits under her desk, snoring. She will grab onto any opportunity to discuss new fabric collections, techniques, or help others find their confidence with a needle and thread.
This season of the Connecting Threads Podcast, we're talking about quilts, quilting and sewing. Zoey will be chatting with some of our favorite people as we explore beginner tips, intermediate skills, and expert level extravaganzas. We'll navigate through various topics and learn as much as we can about fabric and thread.
In this episode, we'll explore some basics of fabric and pr-cuts. First up Zoey speaks with Eleanor and sets a foundation of information about precut basics. Later in the podcast, she sits down with Elise to get inspiration about what to do with all the precuts once we have them. From fat quarters to disappearing nine patches, we'll explore what makes precuts so enchantingly charming.
Precuts – often referred to as samplers- are bundles of coordinating fabrics cut to a specific size. Depending on the bundle type, they can be a great way to compile pieces of an entire, or near entire, collection without having to purchase a large amount of yardage. We're big fans of precuts, but understand it can be easy to feel lost in all the insider lingo and measurements and, before long, end up with the wrong amount of fabric or sometimes just too bewildered to begin. Fortunately, there is rarely such a thing as "too much fabric." We truly want to speak to all quilters, no matter the experience level.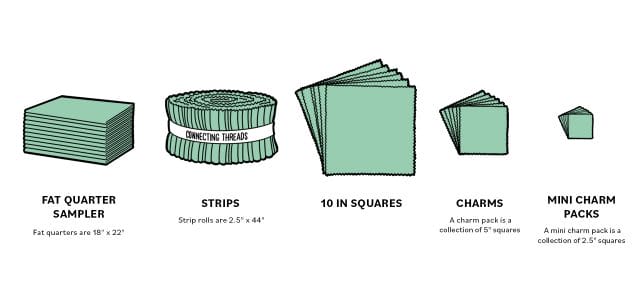 Entirely new to quilting, Eleanor asks the important questions – what is a precut and why are they so useful? Zoey and Eleanor break down different size terminology and what they all mean. Why are some samplers given bakery names and others simply have measurements? Much like Kleenex is to tissues, sometimes there can be little more to a name than ownership. For a new quilter, precuts save both time and potential accuracy blunders while still getting comfortable with cutting tools.
With countless quilts behind her and more fabric in her stash than she's willing to admit to, Elise shares her favorite uses for precuts. A great way to get small selections of an entire collection at once, precuts save money and space. She shares her favorite precut-friendly blocks and patterns, while she and Zoey chat about their upcoming projects.

Listen, Rate, Review and Share on Apple Podcasts, Spotify or wherever you get podcasts!

Mentioned in This Episode:
Guide to Precuts
SewKatieDid Blog
ScribblyGumQuiltCo Instagram
Essential Notions
OmniGrid Mat
Rotary Cutter
Wyldwood Creative
Timestamps:
0:00 Welcome to the Connecting Threads Podcast
2:17 Precut basics
18:59 Meet the team: Hutch
20:30 What to make with pre-cuts
37:14 The credits