Essential Notions
4.19.2021
What is a notion? Essentially, a sewing notion is any tool used when completing a project that would not otherwise be classified as a sewing machine, fabric, nor thread. The world of notions is vast and can quickly become overwhelming. I've narrowed this down and compiled a list of multi-use essentials that are key for any successful sewing or quilting venture.
Regardless of the pattern selected, most projects rely on the same basic sets of foundation tools. These can be broken down into two flexible categories: preparation and process.
Preparation can be described as any tasks that need to be completed prior to the actual task of sewing. This predominantly encompasses cutting, but also marking and preparing the fabric for smooth stitching.
Process includes anything that takes place simultaneously with actual sewing or quilting. Ensuring fabric remains in the proper place and fixing any errors as you go are vital to the success of any creation.
Preparation
I'll start this list off with my absolute favorite cutting tool. This is one of the few times I would recommend getting an upgraded version of something straight out of the gate- and it is so worth it. There are a huge variety of rotary cutting tools available, but this one outshines the rest by far. When not in use, the cutting tool automatically secures the blade and nestles it within the top of the tool. This safely retracts the sharp edge and keeps it from swiping against fabric or fingertips. The amount of accidents and miss-cuts I've avoided by this simple feature is astounding. When in use, a very lightly pressured squeeze pops the blade out and keeps it in place- ready to cut. Because the squeeze release is worked into the handle design, it takes no more pressure than just simply holding the handle. Even after hours of standing at my cutting table, the handle's curved design helps prevent hand and wrist fatigue. It is also a delightfully bright yellow, so unless I carelessly place a pile of fabric on top of it, it is always easy to find.
While we would love for a rotary blade to last forever, they'll eventually need to be replaced. The Sew Great refill blades are fabulously economical and vital to keep on hand when you finally realize you've been pushing harder than necessary to slice through that pile of half-square-triangles.
With precision measurement grids across the entire surface, in addition to multi-degree diagonal guide lines, this mat serves as a dual purpose of protecting table surfaces while also guiding rulers and cutting tools with expert precision. The 12"x18" size is absolutely ideal for fat quarters or smaller pre-cuts, but can also accommodate full yardage with a careful quarter fold. This size offers the most versatility of use without requiring a large amount of table space.
Carefully selected to coordinate with the 12"x18" cutting mat, this 4"x18" ruler makes use of the full length of the cutting space. With no need to fold, a fat quarter is truly this duo's best friend. Once my blocks are assembled, I take them straight back to my mat and use this ruler to square everything up. The ruler acts as a guide for the rotary cutter, ensuring smooth, straight lines every time. With it's clear design and guided grid lines, finding and staying on grain is a breeze while the 4" depth helps work as a thick pivot point to ensure enough overlap to verify all measurements are in-line and nestled right where they should be. Built-in angular guide lines creates a simple multi-purpose tool and eliminates the need for specified angle rulers.
When something can be considered "multi-use," it immediately holds a higher value within my notions box. This Point 2 Point Tuner is, without question, one of those things. A hera maker and blunt point combined, there are few projects that don't have me reaching for this tool. When working with fabrics I don't want to mark with a fabric pen/pencil, the flat rounded tip of this tool is sharp enough to contour creased dents that stay firm in fabric until I no longer need them. It is always my go-to for half square triangles or four-at-a-time flying geese when I need a quick seam-allowance guide as it can dent through multiple layers at once. The opposite end is absolutely perfect for poking out corners of zipper pouches or keeping your fingers out of the way when holding down binding. When ready for finger pressing, the smooth rounded end glides evenly across fabric and saves your fingertips from having to battle out the chain-piecing on their own.
The perfect companion to a set of stitch and flip strips or squares or anything else that needs an extra precise spot of placement. I also use these extensively with bag and pouch making to pre-mark pocket or hardware placements. While the refillable lead comes in a variety of colors to accommodate numerous fabric hues, I find myself reaching for the blue option more often than the others. The pencil markings wipe easily with a damp cloth or the built-in eraser. Generally, I find the damp cloth method a bit easier while also avoiding accidentally stretching my fabrics by rubbing at them. When it comes time to quilt, the pencil pairs beautifully with rulers or stencils to pre-mark stitch lines (though, I always test on a scrap of fabric first to ensure a full wipe off before starting!).
Process
Few things are as magical as a wool pressing mat. At 9"x12", this mat accommodates a variety of quilt blocks without needing too much movement or adjustment to get the full piece pressed. I keep this next to my sewing machine constantly – with an iron at the ready for pressing as I go. While a small iron is great for convenience, it isn't entirely necessary as a standard house iron will do the job just fine. The magic is in the wool. It accommodates either dry or steam ironing depending on fabric type and preference. Buddy it up with a tailor's clapper or a spare piece of wood for ultimate crispness.
While there is a bit of a division in the sewing world between clips and pins, my personal preference plops me right in the middle of this dispute. I absolutely prefer both and switch between the two for various projects. Where pins fall short, wonder clips pick up the slack and level the playing field. With these Wonder Clips, Clover has designed the ultimate tool. The clips stay put even with fine, slippery fabrics. The handy seam guide on the back allows me to double check my points before sewing. I can quickly clip my blocks and line up the ¼" seam guide on the clear bottom of the clip. Once secured, I flip open my pieces and make sure everything is precisely where I want it to be, or make any necessary adjustments without having to unpick stitches. Wonder clips are also my absolute favorite for thick seams and binding.
These heat-resistant beauties are a dream. Extra-long and thin enough to not damage fabrics, these pins are an obvious must-have for any notions box. After years of use, these pin tips have remained sharp, straight, and delightfully reliable. In tight spots where clips can become cumbersome, these pins will pick up the slack and keep everything ready and where it should be until pressed or stitched into place.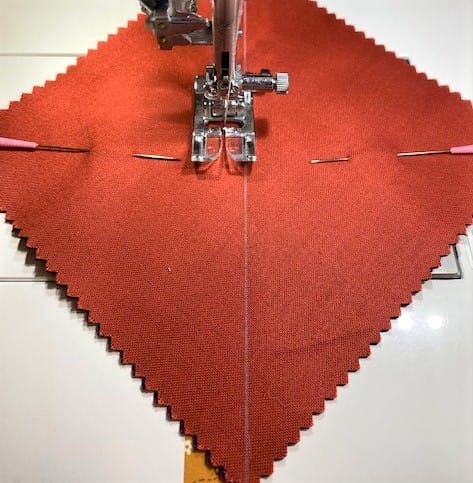 While I would love to pretend mistakes never cross my sewing table, this little seam ripper is there when I need it. The sharp edge slices smoothly through misplaced stitches as the red safety edge prevents accidental slips through the fabric. The light handle and ribbed grip makes it easy to hold for quick, precise unpicking that gets me back to my sewing table quick and efficiently.
Thread snips are vital for absolutely any project and I'm always sure to keep a set close at hand for trimming tails and tidying piecing. While these are no replacement for the rotary cutter when cutting fabric, they make quick work of small snips needed while at my machine. The blunt ends prevent accidental fabric damage and make separating chain-piecing a breeze. They're also the cutest oil-slick color so they clearly stand out amongst the pile of threads I inevitably set them on.
While everyone has their own personal basting preferences, these curved basting pins are my absolute favorite. At just over an inch long, they're the perfect size for keeping that quilt sandwich in place. A single package is plenty for an entire Queen sized quilt, with a few left over for tidying up a few spots that may have been missed. They are perfectly sharp and poke through the multiple layers with ease, gliding back up to the top of the quilt with help from the curved shape. The nickel-plated steel stays sharp for years of repeat use.
Once quilting is finished and edges are trimmed, I like to machine sew my binding to the front, then curl it on over to the back (securing with wonder clips) and hand sew that final step for a nice, clean finish. Whether using a blind stitch or opting for big stitch binding, this needle assortment is ideal for accommodating a wide variety of threads. When I'm feeling overly ambitious and opt for hand-quilting, the largest size needle is perfect for the thicker, size 8 perle cotton. These needles are flexible and long, which makes a simple running stitch a breeze by catching 4-6 stitches in a single pass without dropping the backing.
One of the most delightful things about sewing is no two artists operate in precisely the same way. The only true necessary components to modern making are fabric, thread, and a sewing machine. Everything from there is built up with personal preferences and trying new things through the process of creation.
Before I discovered the Point 2 Point turner, I used a library card for creases and a capped pen for my blunt edge. Prior to discovering curved basting pins, I either used straight pins (with a lot of accidental palm-stabbing) or simply kept layers on the floor as I crouched over them, hand sewing every single quilt-line. None of these substitutions worked nearly as well as their proper notion counterparts, but they were the tools I had at my disposal as a very early beginner, just barely testing the waters.
If I were to start again today, these are the supplies I would deem absolutely essential and would have given me the opportunity to sew with confidence rather than struggling where I otherwise didn't need to.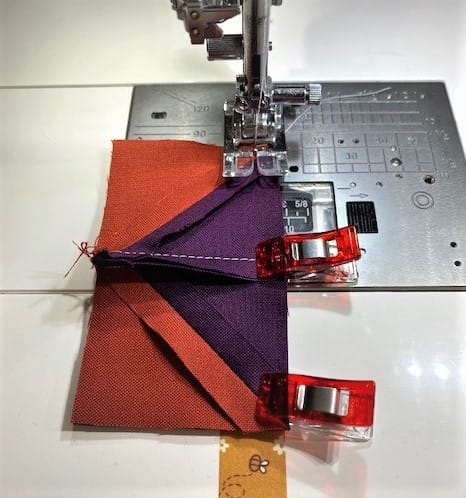 Looking over this list and glancing at your own collection of essential notions, are there any that you haven't tried before, or any that you'd add? Leave us a comment below and continue the conversation!