Meet New Staff Members
6.2.2021
In the last year a lot has happened within our world, our communities and in our company. Connecting Threads associates left and retired, and we have expanded, adding new roles. We are happy to welcome new members to our team and would love to introduce them to our quilting community. Please welcome…
Zoey Baggins, Social Media Engagement Specialist
I'm absolutely delighted to be part of the incredible Digital Team at Connecting Threads. For decades, I've been passionate about fiber arts and am constantly seeking out new skills, supplies, and epic adventures. As a fiber artist, bag maker and quilter, I spend my evenings and weekends sewing as much as I can muster. I'll grab onto any opportunity to discuss new fabric collections, techniques, or help others find their confidence with a needle and thread. 
Rarely found without my Corgi by my side, the two of us fully utilize any bits of free time leftover to hike and backpack our way through the lush forests of the Pacific Northwest. While still currently in process of remodeling a 1986 fiberglass camp trailer, once finished she and I will have even more opportunities to explore without being worried about getting stuck in a rainstorm in the middle of a forest!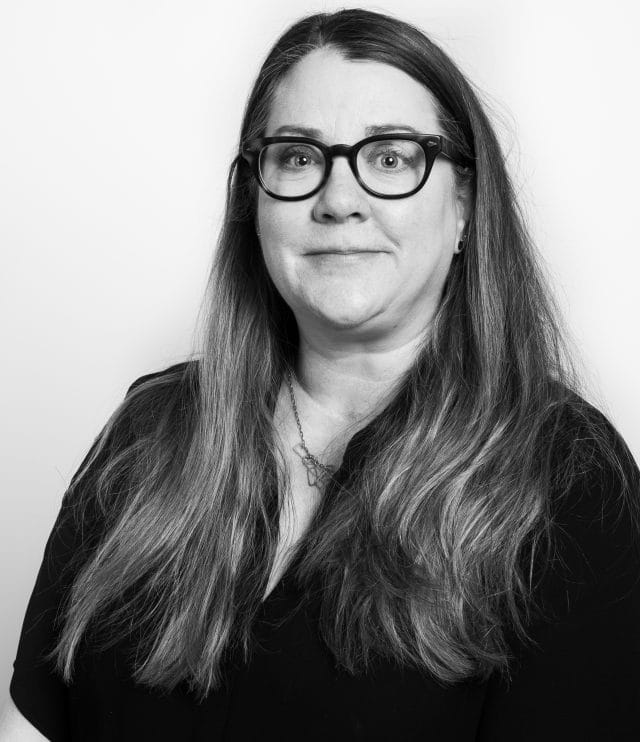 Kristin Bannister, Director of Marketing and eCommerce
Kristin is a progressive, seasoned marketer who's worked with some of the world's most iconic, global brands, Nike and Levi's. She's spent the majority of her career creating integrated marketing campaigns with an emphasis on branding, advertising, digital & social media programs. Kristin's owned her own marketing consulting practice for the past few years, working with clients FabKids, Common Sense Media, Curaleaf, and more. Before this she was the Head of Creative for Brandless, a CPG company that offered best-quality everyday essentials, all for $3. Kristin also led marketing at Levi's, developing integrated marketing campaigns for both the women's and men's categories. She was also at Nike for eight years, leading advertising, digital & social media marketing teams for North America & Asia Pacific. Before Nike, she was a leader in e-commerce start-ups; and before this, she led Production teams at a digital creative agency. In her spare time, Kristin loves to knit, garden, and build pottery. A true lover of Portland, she and her family love to hike and camp. Kristin has had nicknames her entire life — she answers to KJ, KB, Banni, Bannister, and overall she can't wait to join the Crafts Americana team.
Eleanor Burks, Social Media/Copywriting Specialist
Eleanor also goes by "Ellie" and grew up in Singapore that she calls "home" but her parents now live in Nebraska.   She has been in the US for a couple years now and is planning to make Portland her new home.  She went to college in Denver and then moved to San Francisco and then made the move to Portland in October of 2021. She loves it here and can't wait for summer.  Eleanor's professional background is in communications, marketing and events – mostly for refugee resettlement non-profits and higher education.  After some years with non-profits, she was wanting to work for a for-profit business, ideally direct to consumer with a product she could touch and would want to use. She always has a crafty project going on – currently it is making disco balls out of old CD's (which will soon be her Zoom call background).  She also recently made curtains for her parents and refurbished some used furniture. She loves thrifting.  Eleanor is an active person who enjoys skiing, hiking, and trying to get into the Touch Rugby community in Portland to have some running and play incorporated into her life.  She also enjoys traveling, cooking and trying new restaurants.
Sydney Fort, Graphic Designer – Quilt Division
My name is Sydney, I joined Crafts Group this spring as a graphic designer. I am a native to Portland and an avid artist. Before starting my job here I worked as a freelance graphic designer for 5 years working with non-profits and businesses in the Portland area. Outside of design, I enjoy printmaking, book binding, film photography, hand lettering, and fiber arts. My mother is a seamstress and I grew up sewing with her making clothes, accessories, and mending/embellishing fiber objects. I am so excited to be working in an environment where craft crosses over with design! When I am not working or creating, I enjoy spending time with my kitten, walking around Portland, and (in a non-pandemic world) going to concerts.

Robyn Head, Connecting Threads Digital Designer
My graphic design path evolved from a background in fine arts and a fondness for photography. I have a passion for textiles and fabric design and a sentimental connection to quilt-making, which drew me to Connecting Threads. Growing up, I moved internationally and throughout the United States, until I landed in Colorado long enough to call it home. I now live in Portland with my partner, along with two cats and a dog. In my down time, I like to stay cozy at home or get outside to soak up nature—cycling and yoga are my feel-good activities. I nerd out on pop culture, politics, film, comics and pretty much anything design-related. Working for Connecting Threads lets me immerse myself in a community of creatives—I feel lucky to work with an inspirational group of crafty coworkers!
Kristin Hutchinson, Creative Director
Hutch is a multi-disciplinary creative leader with 20 years of experience in the design, craft and fabric industries. She has a wide variety of creative experience in advertising, digital marketing, catalog design, web design, packaging design and apparel and fabric design. Her award-winning work was sold worldwide in retailers such as Target, Michael's Craft Store, Joann Fabric and Crafts, HSN, QVC and stationery stores such as Papersource.
Kristin joined the Connecting Threads team in October, 2020. She is excited to relocate from Decatur, GA to Portland in June, 2021. Other than art and design, Kristin's passions include yoga, outdoor adventures and singing silly songs with her family.
Simone Molitor, Administrative Assistant
I joined crafts group November 17th as an Administrative Assistant. In college I studied anthropology and digital art. Later receiving my Master's in Library and Information Science. I started my career as museum archivist then moved into legal records at Youth, Rights and Justice a non-profit that provides free legal services to youth and families. Then my career shifted into public, private, and school libraries. Where I worked as a library assistant. Then I went back into archives for the Sisters of the Holy Names. After my son was born, I decided to take time to care for him and continued part-time with the Sisters as their oral history editor. I started doing art and creating from a young age and continue that tradition by crafting and doing messy art with my son. With anytime left over I read as much as possible, go on hikes, and make gluten free baked goods!
Rebecca Wolkiewicz, Marketing Manager
My name is Rebecca, and I recently joined the Connecting Threads team in March. I was born and raised in New York and spent all of my time there until deciding to relocate to Oregon with my partner in the fall of 2019. After previously living in NYC for a few years, I was unable to resist a change of scenery complete with mountains and endless hiking trails.
I started my career in the non-profit sector, raising millions of dollars for different organizations via special events and partnerships with household brands. After moving to Portland, I was eager to keep shaking things up and decided to pursue a marketing role where I could work for a brand I really enjoy. Though I am still a sewing novice, I love crafts and have been a knitter and maker for over a decade. Being part of a creative work environment is very rewarding. As a child, I grew up enamored with my grandmother's yarn and thread skills. My mother is also a voracious knitter, so you could say the call to crafting runs in the family!
In my downtime, you are likely to find me hiking, gardening, knitting, or working on a jigsaw puzzle. I'm also a huge animal lover and spend a lot of time volunteering with the Cat Adoption Team here in Oregon.