Happy National Quilting Day!
3.21.2020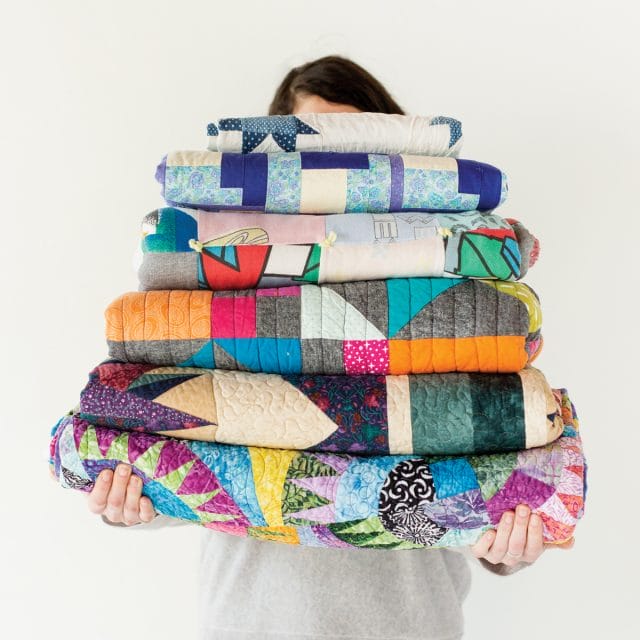 Today happens to be our favorite holiday, National Quilting Day! Here at the Connecting Threads office, we're known to celebrate this holiday all week long. Who knows, next year we might even celebrate for the entire month!

In honor of our National Quilting Day, we wanted to share with you some of our favorite quilts from our personal collections. Of course every quilt has a story behind it, so we asked each staff member to tell us a little bit about what makes their favorite quilt so special to them. We hope you enjoy seeing and reading about everyone's quilt, and we encourage you to leave a comment telling us about your own favorite quilt in the comments!

---
Elise, Buyer
I have done Bonnie Hunter's mystery Quilts for the past 7 years. This quilt is my version of her "Good Fortune" mystery for Winter 2018/2019. I changed the suggested color story to be brighter and more modern, while using a black cotton/linen for the background to create more contrast. The contrast of colors and different fabric textures is my favorite way to make my quilts in eye-candy. I also sized up pattern pieces to make the quilt more modern, and to cut down on the number of pieces I had to make.

Judy, Outreach Director
My quilt is a Round Robin from 20 years ago. It was a group of coworkers here at Connecting Threads. Each person made their center block and then passed the block on with all of their fabrics. We never saw them again until each person added a border and the top was complete. We didn't realize what we were getting into. We weren't that experienced and the quilts kept getting bigger and the calculations for the borders were hard to calculate. Towards the end we had to keep adding time because the borders were so big we couldn't meet our deadlines. We got them finished and every one of them was stunningly beautiful. We learned a lot!

Karen, Quilting Production Coordinator
My favorite quilt is my Montana Cartwheel quilt. Besides just loving the batiks and bright colors I used to make this, it is my favorite because it was the first King sized quilt I had ever pieced, it was my first paper-pieced quilt, first curved piecing, and partial seams. I opted not to make the paper-pieced border, at that point I just wanted it done! It's well-worn and faded now, but I still love it.

Skye, Catalog Director
The patchwork quilt was made for me by my grandmother's sister when I was very young using sweatshirts of the time (the 80s!). It was my favorite throw while watching movies as a kid. My little brother always wanted one too but unfortunately she was never able to make him one. The first quilt I sewed I gave to him as a gift so he could have a quilt too.

Jessica Arlich, Graphic Designer
Before I was born, my parents moved from California to the PNW so I've never lived near my grandparents. One of my neighbors, Julie, appointed herself my surrogate local grandma and would come to my school events. I had a lot of people teach me sewing tips and tricks, but she was always next door and willing when I had any questions or needed to borrow anything. She used to make me Christmas dresses, and made this quilt for me when I was 12. She passed away about a year ago and I hold this treasure very dearly.

Susie, Marketing Coordinator
When my grandmother died in 2010, I was in school studying textiles at the Maryland Institute College of Art. No one else in my family was particularly interested in textiles, so when it came time to clean out my grandmother's house, my family made sure that I got every last textile treasure from her home. This little sawtooth star quilt was one of the many things I inherited, and it's one of my most prized posessions. I'm not sure if my grandmother made it herself, or if someone else in the family did. I think it was likely made between the 1940s and 1960s. It's machine pieced and machine quilted, and I just love the scrappiness of the five mismatched stars mixed in.