Welcome to the 7 Types of Quilters Gift Guide! We know that finding the right gift for the right person can be tough, so for the first week of December, we've designed a gift guide to help you out! Since sewers come in all shapes and sizes, we've separated them out into 7 types of quilters. That way, when you're checking off your list, you know you're grabbing the best gift for each fabric-lover in your life.
For Day 1, we celebrate the Traveling Quilter!
Do you have a quilting bff who loves to hit up their favorite Quilt Festivals each year? Someone who's obsessed with taking classes every chance they get? We've compiled the best items to help someone build their travel quilt kit in a range of prices to fit any budget!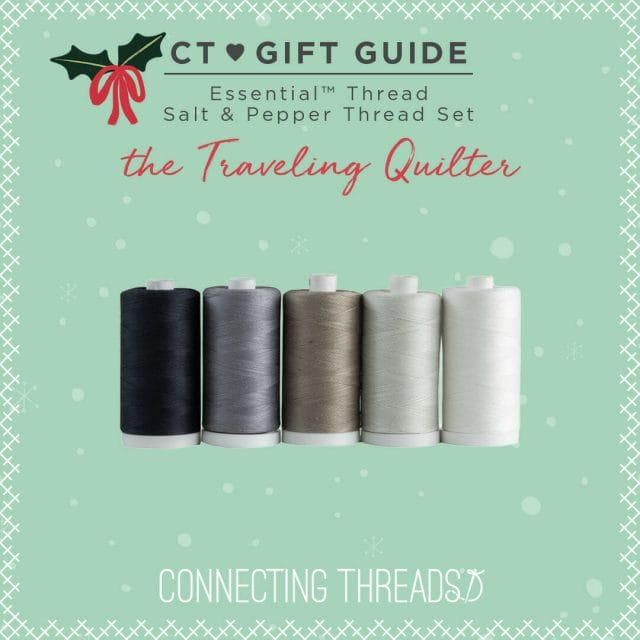 The Salt & Pepper Thread Set ($18.06 – 15% off!)
A neutral thread set is always the best option when you're not sure what someone might be sewing. Our Salt & Pepper set, made up of our Essential Cotton thread, is a perfect to-go quintet for a quilter headed off to their classes. A perfect gift under $20, any sewist would love to see this set under the tree!
2. The Dritz Mighty Travel Iron ($33.99)
No one will be surprised that there's a travel iron on this list, but the Dritz Mighty one is an absolute winner. With a comfortable handle, a heat dial and steam options, this tiny iron is an absolute beast! Even better: you can also buy a matching silicone iron rest to help keep your surfaces safe and help your iron cool faster.
3. The Omnigrid Foldaway Cutting Mat & Pressing Pad ($34.09 – expected back in stock on Dec. 16th)
This truly is the perfect traveling companion for a quilter on the go! It's a dual-sided foldaway tool made up of a 9″ x 12″ gridded mat on one side – great for easy rotary cutting on small surfaces – and a 9″ x 12″ non-stick pressing surface on the other side – perfect for your travel iron. Sleek and simple, it'll fold right up into a bag of sewing supplies!
4. The Foldable Tool Hobby Box ($69.99)
If you've never owned a Meori box, you're in for a treat! Flexible and foldable with tons of pockets made for sewing supplies, this hobby box is perfect for anything you need to tote on the go. This large size is our favorite, but if you're looking for something a bit smaller, try the Mini Foldable Tool Box!
5. The Daylight Halo Table Magnifying Lamp ($99.99)
One of the most incredible tools in our gift guide this year, this lamp is a true hero. The compact design allows it to fold completely flat for easy travel. A lid pops open to reveal a magnifying lens encircled with LED lights, perfect for highly detailed work and accurate color matching. Travel-obsessed quilter or not, this is a fantastic gift for ANY crafter on your list!
Happy gifting, my fellow sewers! We can't wait to see what you choose for all the crafters on your list this year!