Graceful Stars Mini Quilt – Blue Room Project #3
4.13.2016
Here it is! Blue Room Project #3 in my Blue Series – a group of  small projects done in a monochromatic blue palette for a new room we are remodeling in our home. To read about the previous projects, click on the following:
Project #1 Piccadilly Circus Mini Quilt
Project #2 Rise and Shine Mini Quilt
My small projects seem to be leading from one into another. I tend to cut more than I need when I make scrappy quilts –  I like to have a lot of options – and I just plain get carried away in my "cutting zone" – must be one of my Happy Places!
I had a lot of 1-1/4″ squares leftover from the Rise and Shine Mini quilt because I cut two of each fabric and only used one.  I thought these leftover squares would work well for sashing for a the Graceful Stars mini quilt by Jeanneake.  Jeanneake used HSTs (half-square triangles) that finish at 3/4″ for the sashing! For mine, I made my mini quilt square to match the other mini quits I was making.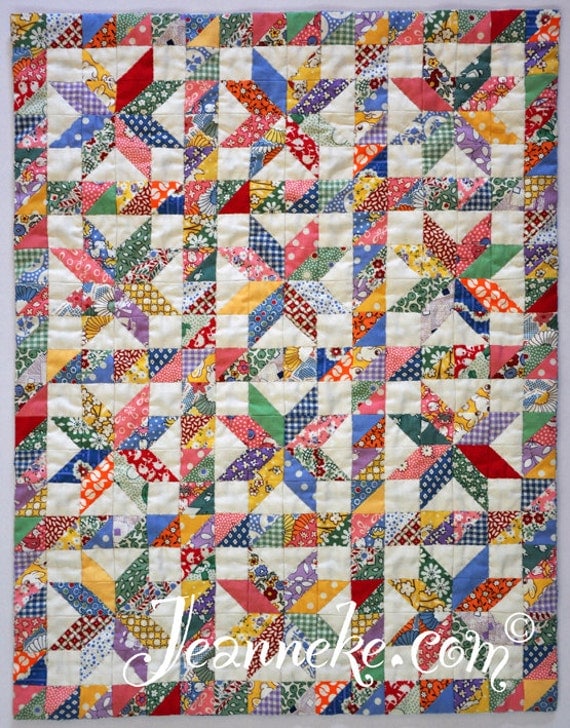 I cut two 2″ squares from each of some light to dark blue fabrics.

Below, you can see the different stages of construction. To make the HSTS for the stars, one blue square was combined with a 2″ background square and the other matching 2″ square with another blue of a different value (lighter with darker). You can see pieced sashing on the left and some completed stars at the top.
The HSTs in Jeanneke's Graceful Stars pattern were made with foundation paper (printed and ready to sew in her pattern) – which is a good way to do it – but I wanted to test the new Bloc-Loc for trimming the HSTS.


I made all the HSTs and squared them up to 1-1/4″ with the Bloc-Loc with the 2-1/2″ square. The best thing about this tool is that the seam is always exactly in the corner which is very important for precision piecing – especially when the HST is joined to another unit to make sharp points and straight diagonal lines between units. I discuss this in my Perfect Points and the Positioning Pin tutorial.
I combined the HSTs as shown below with contrasting lighter and darker blues. Joining the four units below turned out be the biggest challenge for me. I did a lot pinning and some unsewing.
I tried to place two darker units across from each other and have a lighter blue  and a saturated bright blue in each star.
The stars and pieced sashing are ready to be joined. This will be the true test of precise piecing because there are a lot points and seams to match!
Oops! The sashing got a little wonky! I did well maintaining sharp points on the stars but the sashing isn't as straight as I would like. I hope I can straighten the sashing up when I spray baste and quilt it!
Oh well! In the spirit of Brenda Pappadakis's often quoted phrase:
I quilted the mini quilt with monofilament and stitch in the ditch.
My Graceful Stars mini quilt is not as quite as good as Jeanneke's sample with her straight sashing – but it's mine and it is done! Since the Blue Room is for college-aged foreign exchange students, I don't think they will be too critical – or at least I hope not! I do like the way all those blues work together in a balanced scrappy way.
As you probably know, when you make HSTs with two squares, you end up with two HSTs. Since I did not repeat any fabrics in the stars and only used one, I have lots of HSTs leftover! Guess what? Yep, they get used up in the Blue Room Project #4 coming soon. Please check back!