Gifty Galore – Project 12: Fabric Snowflake
9.22.2014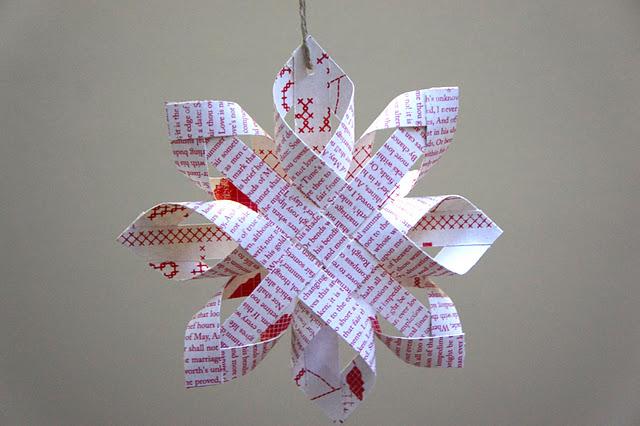 Today's Gifty Galore project is inspired by the above papercraft snowflake on this French blog. It seemed like a simple and fun conversion into fabric, so I was game to give it a whirl!
These are the basic supplies you will need:
Two complementary fabrics! (I chose Snowflake Checks in patriot blue from our new Snowed Inn collection and Musical Scroll in pale white from our Symphony of Blues collection.)

Since we are emulating the double-sided paper of the original tutorial, it's important to use two fabrics.

A ruler
Shears and/or a rotary cutter

Some sort of firm fusible stabilizer (I chose some double-sided fusible stabilizer I had in my stash)*

You could also use a firm non-fusible and just use something like 505 spray to stick it all together.

Some sort of adhesive or fabric glue to attach the fabric strips (you can totally sew these together if you want!)

An embroidery needle and some floss to create a hanging loop when you're all done!
* This is also dependent upon how you deal with your fabric strips. More on that shortly!
|1|
First things first, press your fabric to a nice and pristine state!
|2|
Measure and cut each piece of fabric into a perfect square. It really isn't crucial to do a 12″ square like I did, as long as you can easily divide it into 12 strips. 🙂 NOTE: if you're going to have finished edges on your strips, please measure to account for 1/8″ seam allowances.
|3|
Now here's where you need to make some choices. After some internal debate and ultimately deciding I was going to be okay with unfinished edges, I wanted to go even simpler and use what I had at home. I attached my double-sided fusible interfacing in strips to the wrong side of a fabric and then carefully placed the second fabric on top, right side out. Then I ironed.
This is clearly the quick & dirty method. The other way would yield even handsomer results.
If you wanted to get fancier with your little strips, you'd simply:
Measure and cut your square to account for a 1/8″ seam allowance on the strips, as mentioned above

Lay the two fabric pieces right sides together and cut each strip

Stitch around three of the edges of each strip, keeping right sides together

Pull them to right side out and insert something fairly firm, like a pipe cleaner or spare collar stays, even strips of cardboard would work great!

Tuck the end of each strip in and handstitch closed.
Yeah, I wasn't into that level of work this time around, but you might be!
|4|
If you are doing a 12″ square, measure and cut 12 1″ strips. I found it immensely easy to simply layer my two fabrics and cut them together, but do whatever works!
|5|
Choose which fabric you want to be your "feature" and lay two strips in a cross shape. Attach with your fabric glue or fusible interfacing. Again, you can definitely sew this and all of the strips in place if you feel like it. Or you can be "efficient" like me and just use the sticky stuff.
|6|
Add two more strips vertically, right on top of your horizontal strip. Stick those suckers in place.
|7|
Add your two remaining horizontal strips, tucking each under the center vertical strip and attach them. You should now have something like this photo. Do whatever feels right for the spacing. I didn't measure, but I think my spacing was roughly 1/8″.
|8|
Okay, so somehow I missed grabbing a photo of this part, but you're going to take the two corner pieces for each section and attach them at a 90º angle. Don't twist the strips really, just place one on top of the other and allow it to form a cute little loop. Make sure to attach with your adhesive or sewing!
|9|
At this point, you should have 4 "petals" and the two remaining strips forming a cross. Set aside and repeat steps 5-8 with your other 6 strips!
|10|
Now that you have your two pieces, lay one "wrong side" up (the side you haven't been seeing most of the time). Now turn your other piece so the petals line up with the straight strips and simply place "right side" up on top of it.
|11|
You're almost done! Slip the straight pieces through each "petal" and attach to the tip of each petal, making sure the straight strip isn't too loose. Attach each end and carefully trim off the excess and you're all done!
All you need to do now is attach your hanging thread and this little snowflake will glisten wherever it goes!
---
We would LOVE to see how your projects turn out. Join the Gifty Galore group on Quilt With Us (QWU) and post your pictures there for everyone to enjoy. If you're on Pinterest, upload your picture and tag it with #GG14. Of course, we would also love to see your pictures on our Facebook wall! Please post any questions about this project below in comments and we will respond.