Building Houses from Scraps – Blue Room Project #5
4.27.2016
Project #5 for the Blue Room is the last (maybe?) mini quilt for the walls of our newly remodeled bedroom for foreign exchange students/quiet place to read. To check out the previous projects – all done in a blue palette – please click on the links below.
Project #1 Piccadilly Circus Mini Quilt
Project #2 Rise and Shine Mini Quilt
Project #3 – Graceful Stars Mini Quilt
Project #4 – Pinwheel Mini Quilt
I first saw the Building Houses from Scraps project online while I looking for scrappy quilts ideas using Japanese taupes. I came across a blog post from Jeanneke in the Netherlands, who started a year-long quilt-a-long in 2012, inviting quilters to make a miniature house block each day for a year – over 1500 quilters participated! You can see many of the quilts on the her blog post Building Houses from Scraps. If you scroll down a ways,  you will see an all blue one that inspired my mini quilt.
You can order a copy of Building Houses from Scraps, a downloadable e-pattern, from  Jeanneke's Etsy Shop. The pattern contains instructions for a hand-pieced and paper-pieced version. I ordered the rubber stamp set–which provides lines for hand-piecing–but I didn't use them for this project because I wanted to use each fabric only once.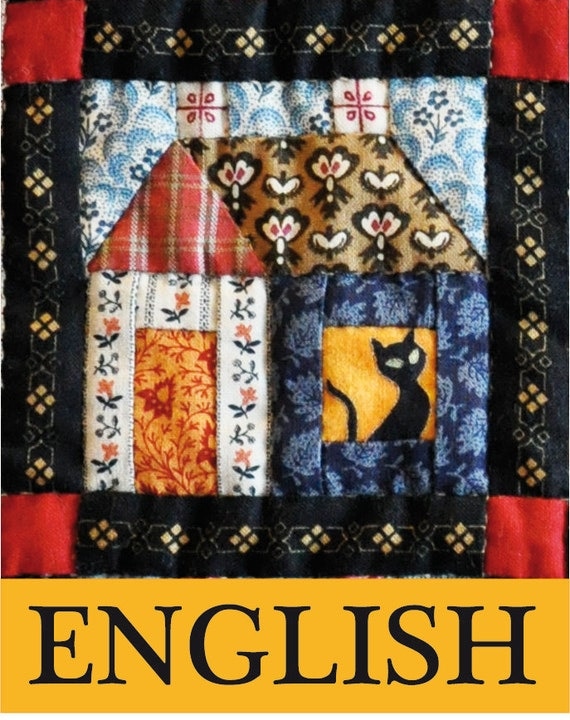 I chose the paper-pieced version of the Building Houses from Scraps because I enjoy paper-piecing and it works well with such a small block. In previous posts, you saw my large stash of blue fabrics from which I pulled.
Here are the houses sewn in rows…
then the rows sewn together…
and finished with binding. Quilting was done with stitch in the ditch and monofilament because I didn't want stitching over the scrappy miniature piecing and it wasn't needed – the houses finished at 2-3/4″ and the quilt at 13-1/2″ square. I am not sure why my blocks came out smaller than 3″ square unless it has to do with the transition from metric to inches. They are perfect, precious little houses otherwise. The fabrics are from my stash and none are repeated (except the cornerstones and sashing) so it is truly scrappy.
I love this little quilt!
Next week will bring another project for the Blue Room – please check back!